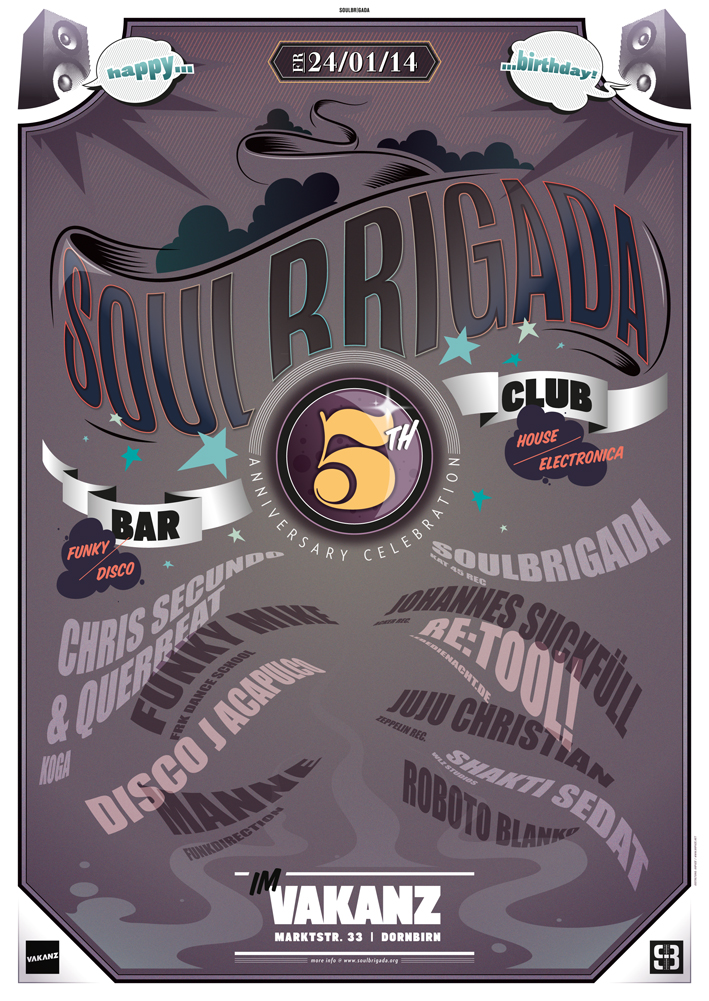 Meanwhile we're five years in the biz! Time for our big anniversary bash at the brandnew club Vakanz in Dornbirn (Austria)! More info: here
For this reason we invited 10 of our favourite dj's & artist we worked togehter in the last years. Full eclectic dj styles on two dance floors: funk, soul, funky breaks, disco, garage, deep & soulful house, electronica..
Line-up:
• SoulBrigada (KAT45 Records, Poets Club Records)
• Juju Christian (Zeppelin Records, Future Jam)
• Johannes Suckfüll (Acker Records)
• re:tool! (lebedienacht.de)
• Shakti Sedat (WLZ Studios)
• Chris Secundo & Querbeat (La Crema)
• Funky Mike (FRK)
• Manne (Funkdirection)
• Roboto Blanko (DE)
• DJ Fabwoy (DE)
Press release (in german):
Seit fünf Jahren treiben die Brigadisten mit ihrem Potpourri an soulfuller Musik jenseits abgesteckter Genre-Grenzen ihr Unwesen. Ihre Homebase ist das Drei-Länder-Eck am Bodensee – aber ihr eklektischer Mix begeistert auch regelmäßig die Crowds u.a. in Wien, Zürich, Würzburg & Frankfurt. Zudem wurde 2011 ihr Remix der ' Gilles Peterson's Havana Cultura Band' als exklusives Vinyl auf Poets Club Records (DE) veröffentlicht. 2013 konnten sie zwei ihrer Edits als 7″-Single auf KAT Records (UK) releasen! Neue Projekte für 2014 sind bereits in den Startlöchern..